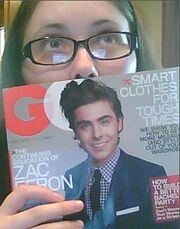 Unfortunately, the user in questions is not interesting enough for a wiki page. Thus, she has nothing to say here.
s00per Efron fan. You just lost The Game. <---- Indeed you did. Zef loses constantly, so she gives up on not losing now.
Testing title.
Edit
Blah blah blah blah.
Hera is trying to figure out how to use this.
....
Heeeeeeee.
A second title!
Edit
Hoorah!